Research & Development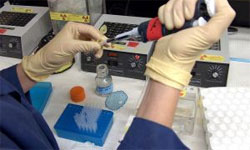 The majority of MEISSNER processes is derived from own research and development work. MEISSNER therefore possesses the detailed know-how to provide an optimum design for the offered plants. These processes together with their variants usually originate from the company-owned laboratory facilities for research and development located in Immekeppel/Bergisch Gladbach. Starting from laboratory-scale experiments, the further development of all new processes involves meticulous testing and up-scaling in MEISSNER's pilot plants prior to implementation into industrial-scale plants.

In addition to the research and development related to new processes, also existing processes as well as individual process steps are constantly being improved and optimized in the company's laboratories. In special cases, the further development of particular process steps is carried out in close co-operation with, and in the research facilities of, reliable and capable sub-suppliers.

The constant and innovative development of all processes shows in exceptional economic efficiency, reliability, and environmental compatibility of the offered plants and processes. Several patented processes resulting from own research and development ensure a high-standard development work.