New MEISSNER NC Stabilization Plant for SYNTHESIA in Operation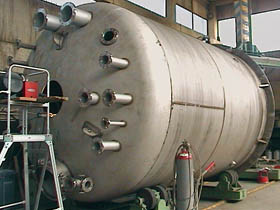 A new MEISSNER plant for the stabilization of Nitrocellulose (NC) has been successfully commissioned at the production site of our longstanding customer SYNTHESIA, a.s. in Pardubice, Czech Republic.
SYNTHESIA and its strategic business unit Nitrocellulose is one of the leading producers of Nitrocellulose in Europe, and the new stabilization plant is part of several MEISSNER plants that have been delivered to SYNTHESIA over the last decades.
The turnkey-like scope of supply by MEISSNER included the basic and detail engineering, the plant equipment, the process building and the execution of the erection works along with the supervision of the commissioning up to the successful guarantee run.
The special pressure cookers, needed for the stabilization process, were designed and manufactured in MEISSNER's own workshop.